Juan Luis Fisch Cabeza de Vaca Blog
EHang presenta AAV VT-30
AAV VT-30 Air Mobility Movilidad aérea EHang
EHang presenta AAV VT-30 de largo alcance para expandir la cobertura regional de movilidad aérea. EHang Reveals Long-Range VT-30 AAV to Expand Regional Air Mobility Coverage
Guangzhou, China, 26 de mayo de 2021 - EHang Holdings Limited (Nasdaq: EH) ("EHang" o la "Compañía"), la empresa líder mundial en plataformas de tecnología de vehículos aéreos autónomos ("AAV"), reveló hoy su nuevo tipo de AAV eléctrico para pasajeros "VT-30", el primero de la gama de productos de EHang que está diseñado para el transporte entre ciudades. Con una estructura híbrida, el VT-30 está diseñado para viajar una distancia de hasta 300 km con un tiempo de vuelo diseñado de hasta 100 minutos y está diseñado como una solución de movilidad aérea segura, conveniente, eficiente, ecológica e inteligente para inter- viajes por la ciudad. Como producto insignia de largo alcance de EHang, VT-30 complementará EH216, un producto que se centra en la movilidad aérea dentro de la ciudad, para expandir aún más la red de transporte aéreo y mejorar el futuro ecosistema de movilidad aérea urbana ("UAM").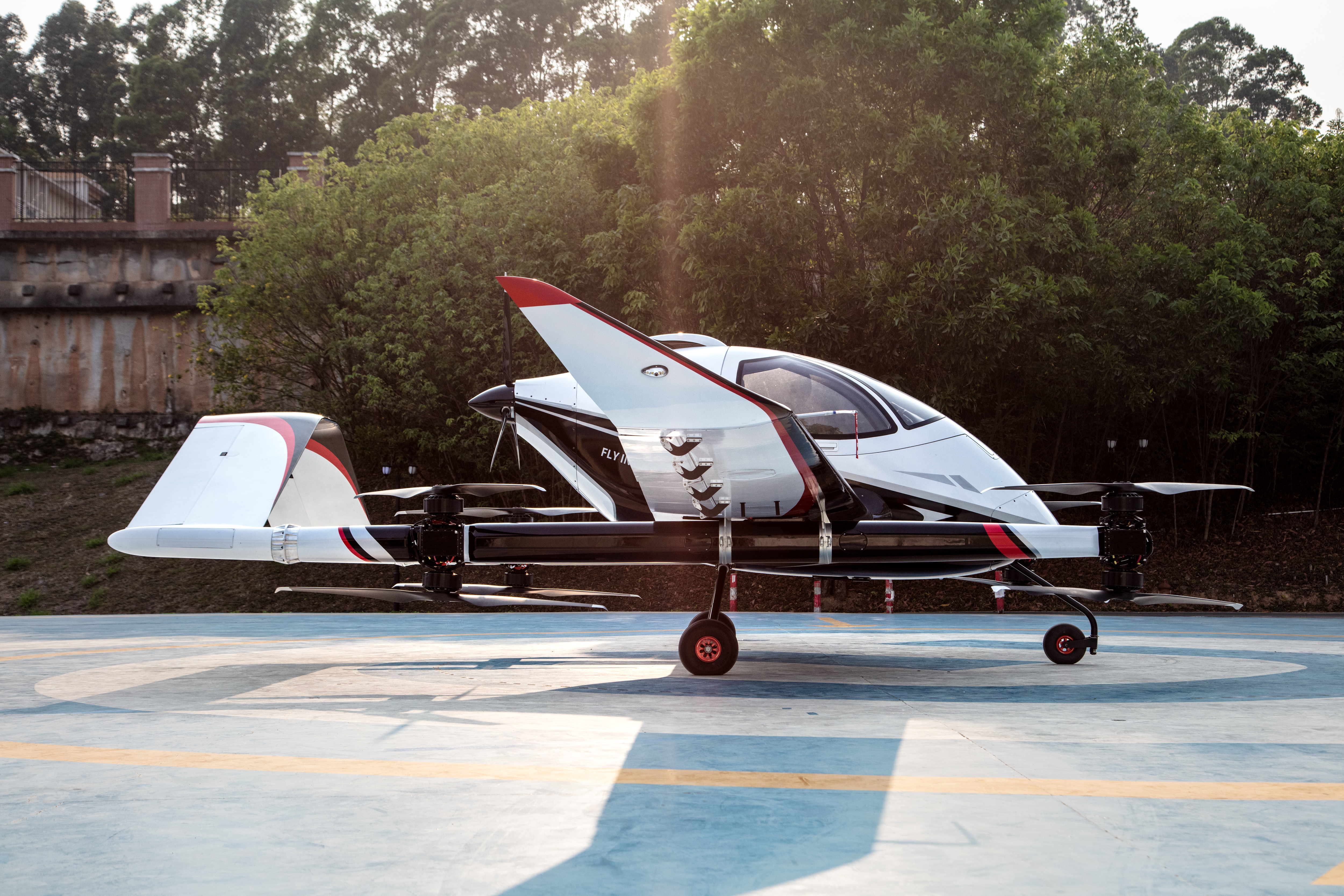 El VT-30 tiene un fuselaje aerodinámico con una superficie de timón de elevación combinada en la cola. Equipado con ocho hélices en ambos lados, tiene un par de alas fijas y una hélice propulsora en la parte trasera, que están diseñadas para lograr un equilibrio máximo de elevación y empuje híbridos. El diseño distintivo permite al VT-30 disfrutar de la ventaja de los modos de despegue / aterrizaje vertical y de taxi, al tiempo que satisface la necesidad de una mayor distancia y tiempo de vuelo. A diferencia de los aviones convencionales de ala fija, guarda la pista para despegar y aterrizar. Además, el sistema de control fly-by-wire de triple redundancia se puede modificar de manera flexible en múltiples modos, lo que implica un nivel de seguridad mucho más alto para la aeronave.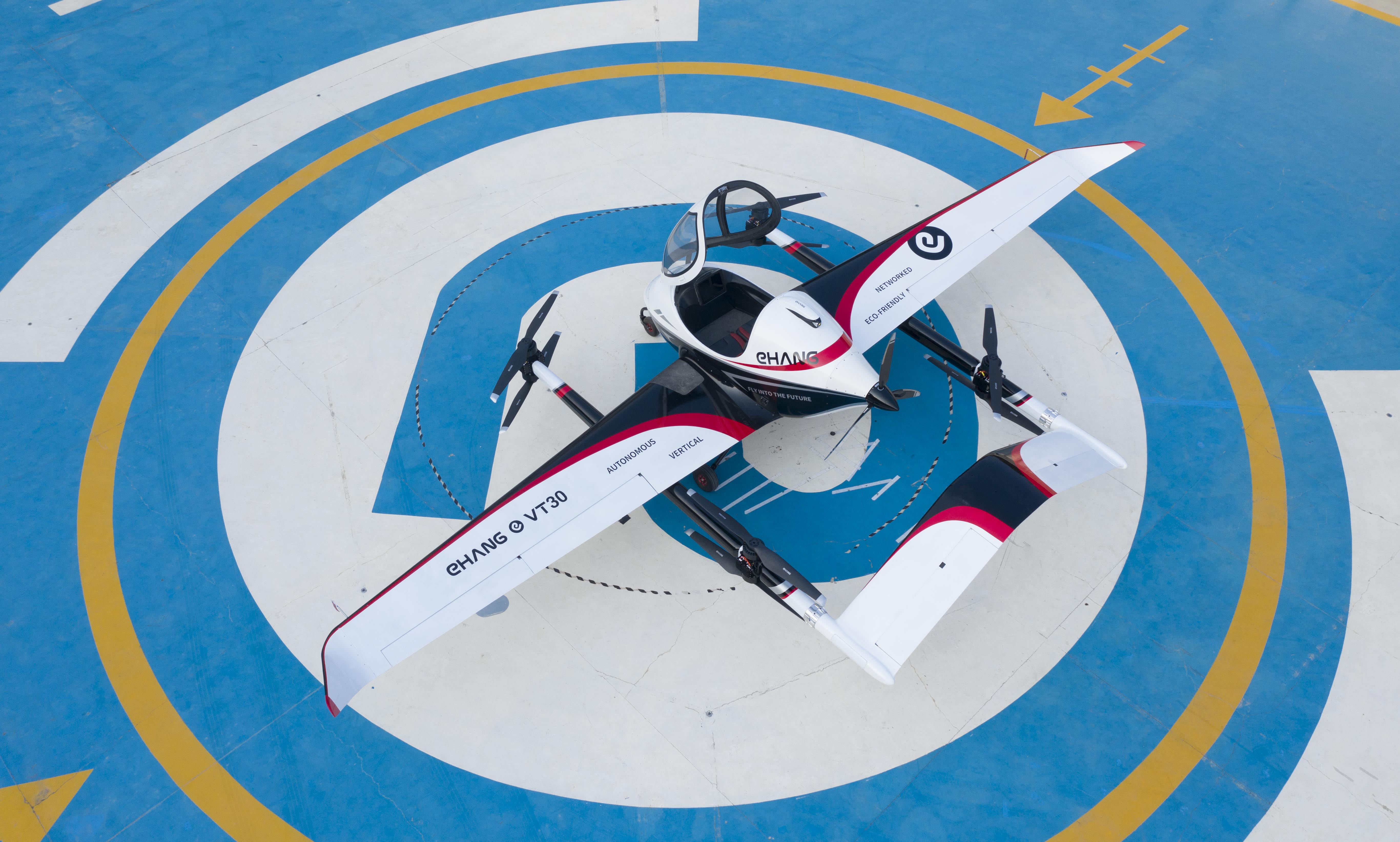 El VT-30 está diseñado para viajes entre ciudades entre grupos de ciudades (como el área de la bahía de Guangdong-Hong Kong-Macao, el delta del río Yangtze, el borde de Bohai, etc.), ya que puede transportar dos pasajeros de una ciudad a otra otro. El VT-30 cuenta con los méritos de respeto al medio ambiente, cero emisiones y bajo nivel de ruido, totalmente alineado con el principio de viajes ecológicos de EHang. En comparación con los modos de transporte interurbanos convencionales, se espera que el VT-30 proporcione soluciones más eficientes, ecológicas y de bajo costo para los habitantes urbanos, además de ampliar la capacidad de los servicios UAM existentes.
Hasta ahora, el VT-30 ha realizado despegues y aterrizajes verticales, sistemas de potencia y otras pruebas. En el futuro, EHang continuará realizando varias pruebas y optimizaciones en diferentes condiciones ambientales, mientras mejora continuamente la seguridad y la estabilidad de los AAV, con el objetivo de acelerar los AAV de larga distancia para que se utilicen en varios escenarios, como viajes aéreos, turismo aéreo y vuelos aéreos. logística.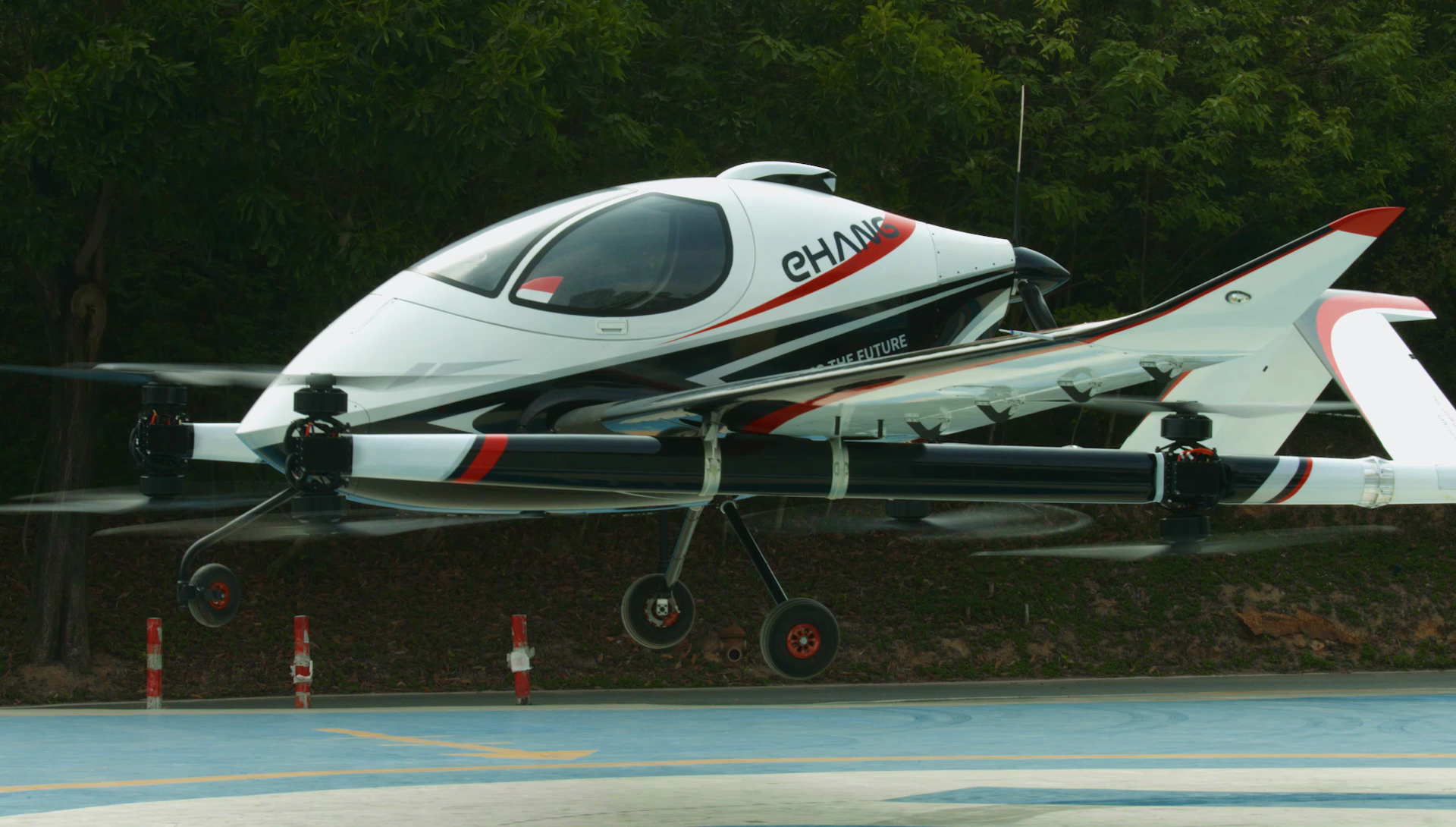 "Nuestro AAV EH216 para pasajeros ya está completamente equipado para viajar en las ciudades con su estructura liviana y aerodinámica, y el lanzamiento del VT-30 proporciona un poderoso complemento a la red de tráfico aéreo entre ciudades al satisfacer las necesidades de cubrir distancias más largas. . ", Dijo el Sr. Huazhi Hu, fundador, presidente y director ejecutivo de EHang," En el futuro, estas dos series de productos se utilizarán como desarrollo central para una estrategia de operaciones orientada al servicio para mejorar la seguridad, la durabilidad y la capacidad de transporte de ambos pasajeros. y bienes. Trabajaremos continuamente para obtener la certificación reglamentaria para nuestros diversos productos AAV, incluido el VT-30, y brindar servicios operativos de movilidad aérea pública urbana más conveniente y eficiente ".
Sobre EHang
EHang (Nasdaq: EH) es la empresa líder mundial en plataformas de tecnología de vehículos aéreos autónomos (AAV). Nuestra misión es hacer que la movilidad aérea segura, autónoma y ecológica sea accesible para todos. EHang ofrece a los clientes de diversas industrias productos AAV y soluciones comerciales: movilidad aérea (incluido el transporte de pasajeros y logística), gestión de ciudades inteligentes y soluciones de medios aéreos. Como precursor de las tecnologías AAV de vanguardia y las soluciones comerciales en la industria global de la movilidad aérea urbana (UAM), EHang continúa explorando los límites del cielo para hacer que las tecnologías de vuelo beneficien nuestra vida en las ciudades inteligentes. Para obtener más información, visite www.ehang.com .
Declaración de puerto seguro
Este comunicado de prensa contiene declaraciones que pueden constituir declaraciones "prospectivas" de conformidad con las disposiciones de "puerto seguro" de la Ley de Reforma de Litigios de Valores Privados de EE. UU. De 1995. Estas declaraciones prospectivas pueden identificarse mediante terminología como "voluntad", " espera "," anticipa "," apunta "," futuro "," pretende "," planea "," cree "," estima "," probablemente "y declaraciones similares. La gerencia ha basado estas declaraciones prospectivas en sus expectativas, suposiciones, estimaciones y proyecciones actuales. Si bien creen que estas expectativas, suposiciones, estimaciones y proyecciones son razonables, dichas declaraciones prospectivas son solo predicciones e involucran riesgos e incertidumbres conocidos y desconocidos, muchos de los cuales están fuera del control de la gerencia. Estas declaraciones implican riesgos e incertidumbres que pueden causar que EHang '
>>>>>>>>>>>>>>>>>>>>>>>>>>>>>>> <<<<<<<<<<<<<<<<<<<<<<<<<<<<<<<<<
Guangzhou, China, May 26, 2021 -- EHang Holdings Limited (Nasdaq: EH) ("EHang" or the "Company"), the world's leading autonomous aerial vehicle ("AAV") technology platform company, today revealed its new type of electric passenger-grade AAV "VT-30", the first in EHang's product suite that is designed for inter-city transporation. With a hybrid structure, VT-30 is designed to travel a distance of up to 300km with a designed flight time of up to 100 minutes and is designed as a safe, convenient, efficient, eco-friendly and intelligent air mobility solutions for inter-city travel. As EHang's long-range flagship product, VT-30 will complement EH216, a product focusing on intra-city air mobility, to further expand the air transportation network and improve the future urban air mobility ("UAM") ecosystem.
VT-30 has a streamlined fuselage with a combined lifting rudder surface at the tail. Equipped with eight propellers on both sides, it has a pair of fixed wings, and a propelling propeller at the rear, which are designed to achieve a maximum balance of hybrid lift and push. The distinctive design enables VT-30 to enjoy the advantage of both vertical and taxi take-off / landing modes, while satisfying the need for longer distance and flight time. Unlike conventional fixed-wing aircrafts, it saves the runway for take-off and landing. Moreover, the tri-redundancy fly-by-wire control system can be flexibly altered into multiple modes, implying a much higher safety level for the aircraft.
VT-30 is geared towards inter-city travels among city clusters (such as the Guangdong-Hong Kong-Macao Greater Bay Area, Yangtze River Delta, Bohai Rim, etc.), as it is able to carry two passengers from one city to another. VT-30 boasts the merits of eco-friendliness, zero emissions, and low noise, fully aligned with EHang's principle of green travel. Compared with conventional inter-city transportation modes, VT-30 is expected to provide more efficient, environmentally friendly and low-cost solutions to urban dwellers as well as expanding the capacity of existing UAM services.
So far, VT-30 has conducted vertical take-off and landing, power system and other tests. Moving forward, EHang will continue to conduct various tests and optimizations under different environment conditions, while continuously improving AAV safety and stability, with the goal of accelerating long-distance AAVs to be used in various scenarios such as air commuting, aerial sightseeing, and aerial logistics.
"Our passenger-grade AAV EH216 is already fully equipped to travel in the cities with its lightweighted and streamlined structure, and the launch of the VT-30 provides a powerful complement to the inter-city air traffic network by meeting needs for covering longer distance.", said Mr. Huazhi Hu, Founder, Chairman and CEO of EHang, "Moving forward, these two product series will be used as core development for a service-oriented operations strategy to improve the safety, duratbility and capacity for carrying both passengers and goods. We will work continuously to obtain regulatory certification for our various AAV products, including the VT-30, and provide a more convenient and efficient public urban air mobility operational services."
About EHang
EHang (Nasdaq: EH) is the world's leading autonomous aerial vehicle (AAV) technology platform company. Our mission is to make safe, autonomous, and eco-friendly air mobility accessible to everyone. EHang provides customers in various industries with AAV products and commercial solutions: air mobility (including passenger transportation and logistics), smart city management, and aerial media solutions. As the forerunner of cutting-edge AAV technologies and commercial solutions in the global Urban Air Mobility (UAM) industry, EHang continues to explore the boundaries of the sky to make flying technologies benefit our life in smart cities. For more information, please visit www.ehang.com.
Safe Harbor Statement
This press release contains statements that may constitute "forward-looking" statements pursuant to the "safe harbor" provisions of the U.S. Private Securities Litigation Reform Act of 1995. These forward-looking statements can be identified by terminology such as "will," "expects," "anticipates," "aims," "future," "intends," "plans," "believes," "estimates," "likely to" and similar statements. Management has based these forward-looking statements on its current expectations, assumptions, estimates and projections. While they believe these expectations, assumptions, estimates and projections are reasonable, such forward-looking statements are only predictions and involve known and unknown risks and uncertainties, many of which are beyond management's control. These statements involve risks and uncertainties that may cause EHang's actual results, performance or achievements to differ materially from any future results, performance or achievements expressed or implied by these forward-looking statements.